Mass Torts 360™
SimplyConvert is advancing the future of mass torts with the launch of platform designed for collaboration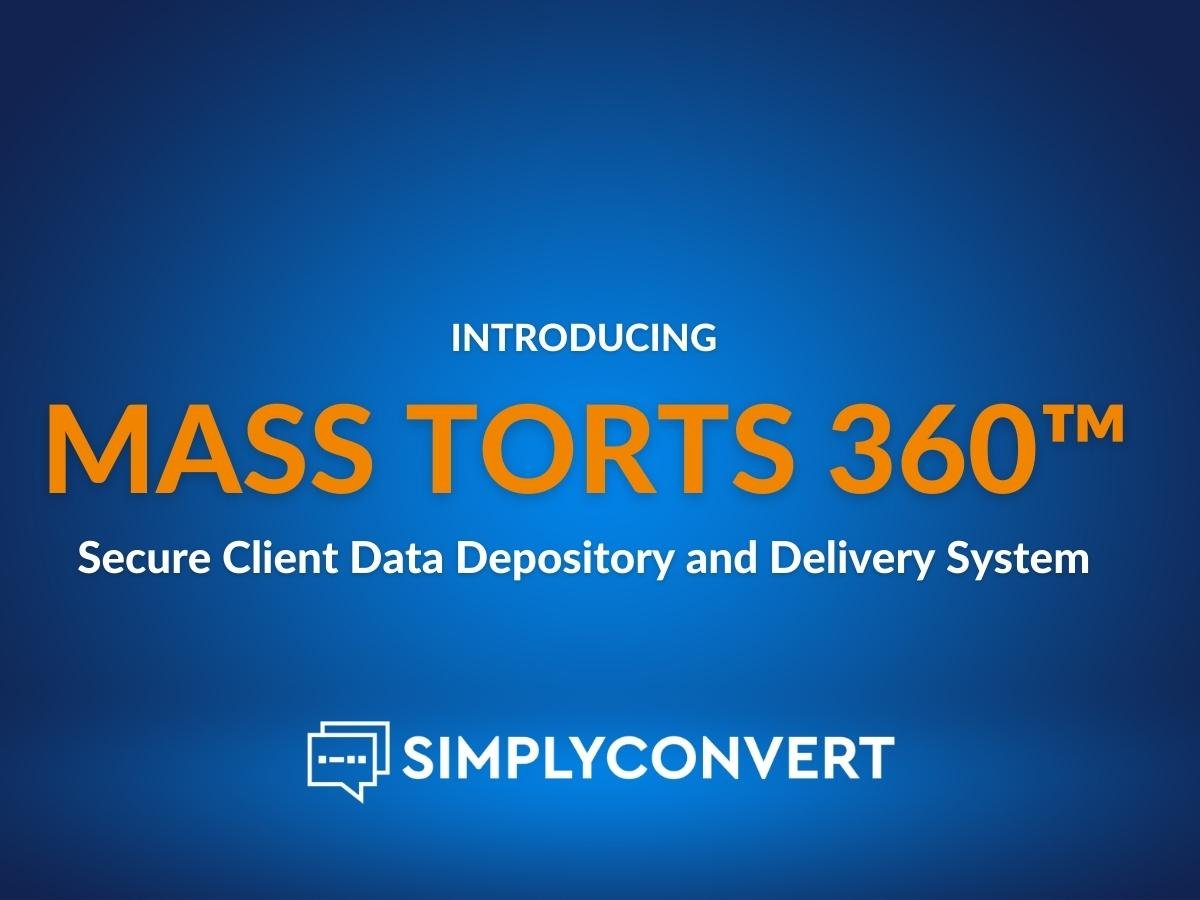 SimplyConvert Announces Launch of Mass Torts 360™

Secure client data depository and delivery system filters and shares real-time client data with law firms, experts, courts, and other critical parties with permissions-based access.

Edwardsville, IL, February 14, 2023 – This Valentine's Day, SimplyConvert announces the launch of Mass Torts 360™, giving our mass tort colleagues the gift of time, transparency, and efficiency.

Mass Torts 360™ utilizes advances in technology to bring a more tech-forward and efficient process to build the mass tort case.

Unlike other MDL claim management systems/databases, Mass Torts 360™ changes the structure and timing of accessing critical client data, putting more control in the hands of key decision-makers at an earlier stage.

Mass Torts 360™ provides mass tort litigation leadership a view of de-identified client data from lawyers opting into the MDL or settlement structure through a simple grant of "permission" on their secure SimplyConvert dashboard rather than a complicated and resource-heavy upload process.

Leaders in mass tort litigations can now make informed decisions based on structured data obtained from the very first signed clients, rather than waiting months until court-ordered forms are shared.

SimplyConvert Mass Torts 360™ brings the following efficiencies to MDLs and litigation leaders:
Leaders determine initial case criteria and secondary data gathered on clients to control bellwether choices;
Initial criteria changes in real-time for every litigating and referring lawyer based on the evolution of the litigation;
Duplicate representation prevented in real-time;
Lead rank from the beginning to determine early settlement matrix and ROIs;
Easily share secure unidentified client data with experts, courts, and all other critical parties with permission-based dashboards. And more…
SimplyConvert Mass Torts 360™ has been a work of passion by a frustrated mass tort lawyer, seven full-time coders, and eight years of testing. Who better to build the mass tort platform of the future other than a team that understands all the pain points of a mass tort practice?
"SimplyConvert's Mass Torts 360™ platform is a game-changer for the Camp Lejeune litigation — and for mass torts as a whole," said Attorney Ed Bell of Bell Legal Group. "Jessie [Hoerman] designed a forward-looking solution that, in my opinion, is going to bring about collaboration and efficiencies never before seen in mass torts."
SimplyConvert Mass Torts 360™ is currently talking with leaders of various litigations to customize a solution for current and future mass torts, starting at intake. Please reach out to Mass Torts Director Libby Vish (libby@simplyconvert.com) if you would like to employ these efficiencies to your practice or mass tort litigation.
Complete the Form for More Information and Pricing