SimplyConvert Named Chatbot Solution of the Year
The LegalTech Breakthrough Award Recognizes Tech Companies and Products Driving Innovation in the Global Legal Industry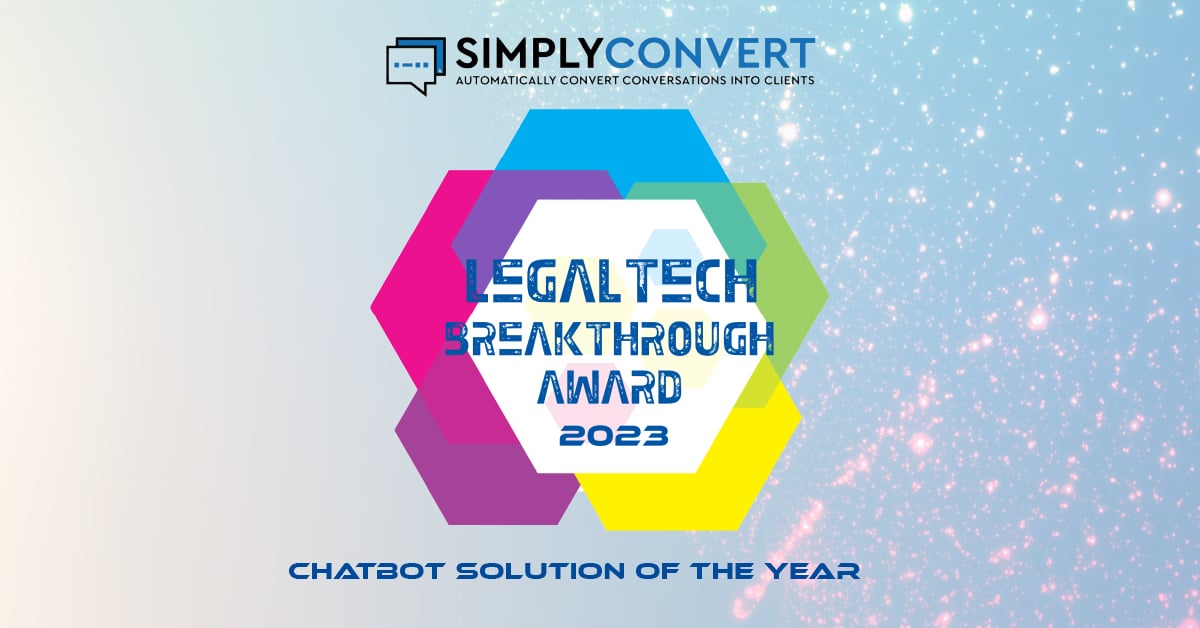 SimplyConvert Wins 2023 LegalTech Breakthrough Award For "Chatbot Solution of the Year"
EDWARDSVILLE, Ill., November 16, 2023 – SimplyConvert, the premier legal tech platform for personal injury and mass tort plaintiffs' lawyers to reach and convert leads into clients, today announced it has won the "Chatbot Solution of the Year" award in LegalTech Breakthrough's 4th annual awards program. LegalTech Breakthrough is a leading independent market intelligence organization that evaluates and recognizes standout legal technology companies, products and services around the globe.

To streamline the client intake process, SimplyConvert created the Instant Case Evaluator chatbot which replaces common live chat functions. Once integrated with a law firm's website, the Instant Case Evaluator automatically retains qualified clients and rejects those who fall outside of the lawyer-created criteria. The solution also provides instant case referrals between plaintiff-side attorneys, quickly securing user-firms a referral fee.

The Instant Case Evaluator leverages lawyer-crafted criteria for over 125 litigations and practice areas to analyze leads, enabling it to automatically retain or reject clients based on their qualifications. SimplyConvert's criteria-based questions allow firms to understand how they can assist claimants from the very first conversation.

The chatbot instantly notifies firms of qualified claimants to speed up the client conversion process and enable automated e-sign contracts and direct outreach to qualified clients.

"Developed with a team of legal specialists, we stand at the intersection of cutting-edge technology and the legal industry. SimplyConvert aims to increase transparency and collaboration between firms, and elevate the plaintiffs' bar as a whole," said CEO and founder of SimplyConvert, Jessie Hoerman. "Thank you to LegalTech Breakthrough for this honor. We firmly believe that this type of technology is the future of the legal industry. By harnessing its power, we will continue to improve upon the important work of obtaining justice for victims of wrongdoing."

The mission of the annual LegalTech Breakthrough Awards program is to conduct the industry's most comprehensive analysis and evaluation of the top technology companies, solutions and products in the legal technology industry today. This year's program attracted more than 1,500 nominations from over 12 different countries throughout the world.

"SimplyConvert is the optimal solution for case management; from intake through resolution, and particularly helping to streamline the intake process through their AI-powered chatbot which ensures plaintiffs have more opportunities for justice. We're proud to award them with 'Chatbot Solution of the Year!'" said Bryan Vaughn, Managing Director of LegalTech Breakthrough Awards. "Very few law firms can qualify potential clients in the first couple of conversations, and many are dealing with a fragmented, siloed approach. SimplyConvert gives legal staff the tools they need to make sure they can serve as a one-stop shop for client acquisition, communication, and management."
####
About SimplyConvert
Created by a plaintiff lawyer fed up with not having the right technology to meet her firm's client intake needs, SimplyConvert uses case criteria-based questions to turn chat conversations with your website visitors into signed clients.

Recognized by the American Bar Association as one of the leading innovators in legal tech, SimplyConvert's client-centered approach gives today's claimants the instant legal guidance they require while providing law firms with a comprehensive system for managing the client intake process from initial conversation to contract. With a law-firm-specific CRM, criteria-based qualification, instant notifications, embedded contracting, automated client follow-up, and case referral management in one seamless platform, client intake is simple, and lawyers are free to focus their resources on what they do best, litigating.

About LegalTech Breakthrough
Part of Tech Breakthrough, a leading market intelligence and recognition platform for global technology innovation and leadership, the LegalTech Breakthrough Awards program is devoted to honoring excellence in legal technologies, services, companies and products. The LegalTech Breakthrough Awards program provides a forum for public recognition around the achievements of LegalTech companies and solutions in categories including Case Management, Client Relations, Data and Analytics, Documentation, Legal Education, Practice Management, eDiscovery and more. For more information visit LegalTechBreakthrough.com

Tech Breakthrough LLC does not endorse any vendor, product or service depicted in our recognition programs, and does not advise technology users to select only those vendors with award designations. Tech Breakthrough LLC recognition consists of the opinions of the Tech Breakthrough LLC organization and should not be construed as statements of fact. Tech Breakthrough LLC disclaims all warranties, expressed or implied, with respect to this recognition program, including any warranties of merchantability or fitness for a particular purpose.